19 Jul

Ocean Onyx Tow Through PPH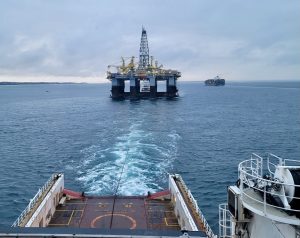 Illuminated on the Port Phillip horizon lies the rig #OceanOnyx, which spent the past few years discovering gas in Bass Strait to meet Victoria's future energy demands.
Our pilots & crews helped guide the towed rig through Port Phillip Heads – a job we've been doing safely for more than 183 years. Port Phillip Sea Pilots are some of Australia's most experienced seafarers – we wrote the book on safe shipping in Port Phillip Bay – and we work with clients, industry and authorities to make our bays safer and more efficient.
Planning for this challenging move commenced long before the tow. It included a detailed risk analysis with consideration for swept turn analysis, emergency aborts, swell, wind, current, shipping traffic, line tension and length to reduce drift angles, and catenary depth.
The Australian crew aboard the Seim Offshore vessels bought the expertise needed to execute the operation successfully. The collaborative efforts of all parties including: Siem Offshore, Diamond Offshore, Beach Energy Ltd Port Phillips Sea Pilots and Ports Victoria made for a safe transit.