19 Jul

Suezmax Tankers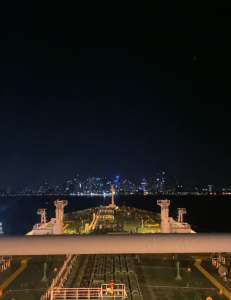 Suezmax tankers at a length of over 270m and a draft up to 14.7m were introduced to Port Phillip in 2014.
At PPSP we make calculated decisions tailored to the specific requirements of our clients. High risk operations such as the movement of Suezmax tankers in and out of Port Phillip required the development of specific operating procedures and pilot training to meet the task. These include but not limited to the following factors:
Inclusion of Dynamic Under Keel Clearance (DUKC) when transiting channels.
Route planning including large turn radiuses and speed profiles to meet the available water.
Transit windows through Port Phillip Heads (PPH) for times when acceptable current, wind and swell height is experienced
Wind velocity vs exposed surface area calculations
Passing restrictions in the South Channel and through PPH
Additional tug utilisation
Additional licensing levels
Enhanced night time navigation practices
PPSP rises to the challenge and shares the expertise we have when collaborating with clients to deliver safe and efficient outcomes, in this case, substantial freight volumes increased per shipment.