26 Apr

There's hope for the Hawk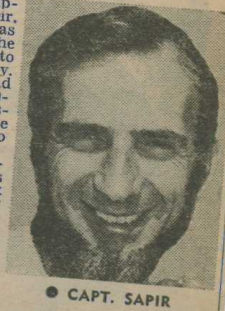 The Victorian Government may put up the money needed to keep the 100-year-old ketch Hawk in Melbourne.
The Ship's owner-skipper Capt. Jacques Sapir said yesterday he has been advised through the Premier's Department to postpone sailing away.
Capt. Sapir had planned to sail the 30 metre Hawk today because he has run out of money to maintain it.
But an unofficial message from the Premier's Department to the Hawk Foundation last Thursday advised Capt. Sapir not to leave Williamstown port for at least another week.
Foundation treasurer, Mr Wilson Evans, said yesterday the foundation was "very hopeful" that its application to the department for funds would succeed.
An application for #275,000 to buy the ketch and for future modifications was made a month ago.
The Hawk could be used as a harbor tourist attraction and for youth sail training.
However, Mr Evans said that despite his hopes of public funding, "the only surety is a letter from the Premier."
Capt. Sapir said while the matter is being considered "I'll have to eat my stomach out again for another week.
"I haven't worked for three months and I have no private means," he said.
Capt. Sapir has spent more than $200,000 to restore the ketch since he bought it four years ago. Unless the government decided to buy the Hawk soon, Capt. Sapir will use the vessel off Queensland for tourist charters.