20 Mar

Crowds Greet Dominion Monarch

Giant liner berths 

Records easily broken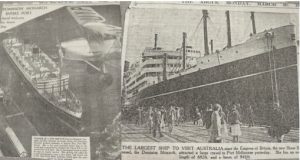 Welcomed by a host of yachts launches and small craft, the new express liner Dominion Monarch berth at Port Melbourne yesterday. After a record-breaking voyage from England. It is estimated that more than 10,000 sightseers watched the big but graceful ship being nosed to her birth at Station Pier.  During the day, hundreds of cars lined the waterfront at Port Melbourne while thousands of people swarmed on Station and Princess piers to get a closer view of the liner. Only holders of the special passes were allowed on board. 
All records lowered 
The most powerful British motor ship afloat the 27,000 tonne liner has shattered every steaming time record for the passage round the Cape. After lowering the England to South Africa and South Africa to Australia records by two days each she made the passage from Fremantle to Melbourne in three days 10 hours 20 minutes. 
Crossing the Bight at an average speed of more than 20 knots she covered an average of 480 miles each day the Dominion Monarch will maintain a 30 day service between England and Melbourne and 35 days express schedule to New Zealand- their first through service of its kind. "Like a motorboat" 
Both Captain A Campbell, the pilot who bought the liner up the Bay and Captain W. H. Hartman, her Master praised the vessels performance. "She is a remarkably spacious and roomy ship and handles like a motorboat" said captain Hartman. "No expense has been spared to make this ship first rate advertisement for British shipbuilders. "The crew's quarters are best I've seen in any vessel " 
extract from The Sun. March 20 th 1939.