04 Feb

He Distrusts the Rip after 34 years of it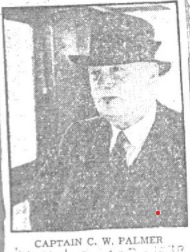 After passing 8000 ships through Port Phillip heads Captain Clifford Wilford Palmer looks more distrustfully at the Rip than when he first crossed it. Senior pilot at the Port Phillip Sea Pilot Service Captain Palmer, who retires at midnight does not regard the Rip as a well trodden doorstep to the Bay.
… the towline parted. We stood away under sail and three days later came to anchor in Waratah Bay until the weather moderated said Captain Palmer. At our next attempt, another tug met us. But the Westerly Gale sprang up, the tug cast off, leaving us to do the best we could.
"Before nightfall with the crew tired out, we anchored under the lee of King Island and remained there until the weather was favourable."
"We got through the heads after 12 days. The only serious mishap was when the captain of the barque was washed into the scuppers and two of his ribs were broken".
Sometimes pilots have had to swim back to the boat when something has gone wrong with the jacob's ladder. It's only because of skillful handling by the captain of the pilot vessel that there have been so few accidents said Captain Palmer.
"The small pilot boat ranges under the lee of the large steamer and although the distance between the vessels is not far to pull, the crossing at times is rough. It is a tribute to the boatmen that they get there. The pilot sometimes gets soaked to the skin after boarding the Brig Edward in a heavy southerly Gale about 5 miles outside we were pounded in the rip by seas which carried away lifeboats and the wheel leaving us at the mercy of the treacherous waves."
"Our only salvation was that in between the heavy seas we were able to drop from the rigging and get the quadrant over the proper direction enabling the ship to struggle through." HMAS Renown with the present King and Queen on board in 1927 was piloted by Captain Palmer and he also brought HMS Hood up the Bay. He bought the "Connecticut", flagship of the American fleet in 1908 on the day his daughter was born, and she was called Constance Perry after the first syllable of the ship's name and Admiral Sperry of the American Navy. Captain Palmer was born in Suffolk in 65 years ago. Captain Palmer trained under canvas first as a apprentice on the Scottish Moors. He became chief officer on the Scottish Glens before joining the Melbourne Steamship Company as third officer 43 years ago. Experience as a master on the Sydney to Hobart trade equipped him to become a pilot in port Phillip in 1905.
Extract from the Sun News pictorial on the 4th of February 1939